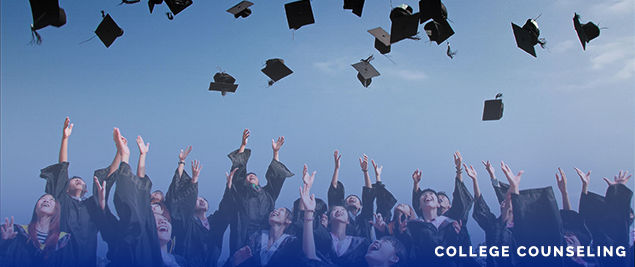 At Arete, we use a proven process honed over our decades of experience.
Our college counseling program is designed to help students formulate college lists that best reflect their interests, passions and goals. We are experts at strategizing how to get into Ivy League schools as well as many other top colleges nationally and internationally. We are also experts in finding schools for students with learning differences and other challenges. The college application process can be confusing and daunting; having a personal college counselor can make this process painless and, dare we say, fun. Ultimately, our goal is to find the best fit schools for our students.
Arete's College Application Package provides the client with a personal college counseling coach who walks the student through the process from start to finish. We get to know the whole student – what his/her academic strengths are, what excites him/her outside the classroom, what environment will most help him/her thrive. At Arete we help students select the college list that best reflects their interests, passions and goals. If a student knows his or her first choice school, we expertly analyze the strengths and areas of development for the applicant and provide specific strategies to help make that dream a reality.
Whether you are a straight-A student body president set on going to Stanford or you are a struggling student still looking for your passion and unsure of where to apply, Arete counselors will customize a program to suit your individual needs.
Your Arete College Counselor will:
Compose a list of schools particularly suited to the student, ranging from "dream" colleges to "safety" schools
Schedule campus visits and prepare the student for campus interviews
Map out the academic landscape for the student's remaining high school years (i.e. AP classes, electives)
Determine which standardized tests the student should take
Draw up a schedule for standardized testing to ensure tests are taken early enough and are adequately spaced out
Match the student with the perfect test coach to optimize standardized test performance
Determine which extracurricular opportunities (including sports, clubs, internships, work experience, community service and summer activities) will bolster the student's applications
Work through, draft, and edit all required application materials (including Common Application information, the personal statement, supplemental essays, and letters of recommendation)
Help prepare the student for interviews
Sort through admissions results, including waitlist and deferral decisions
Your Arete College Counselor will answer commonly asked questions such as:
How do I present myself as powerfully as possible?

What schools should I explore and how can I put together a well-rounded list of great colleges?
How do I choose the right college for me?
What classes should I take to make my applications as strong as possible?
My grades are good, but I keep bombing the math section of the SAT. What should I do?
I'm extremely active in extracurricular activities and community service, but my grades are average. How can I stand out?
My transcript is weak – I may even have a few D's on there. Where should I apply?
What is the best way to explain any academic inconsistencies?
Should I take the SAT or the ACT? Do colleges like one more than the other?
What SAT Subject Tests should I take?
How do I ensure my ACT/SAT scores are high enough for admission to my top choice school?
How do I strengthen my resume? What internships or jobs should I get?
What extracurricular activities should I pursue to make me a strong applicant
What else can I add to strengthen my application?
What should my personal statement be about?
Who should write my recommendations and how do I facilitate beneficial relationships with teachers and counselors?
How can I coordinate college visits and prepare for college interviews?
Should I apply early?
Can I reach out to admissions officers directly? If so, what do I say?
I got into six of my seven choices! But now where should I go?
I am waitlisted – what do I do?
Students with Learning Differences
Arete provides college placement support for students with learning differences. We match students with colleges and coordinate his/her special needs with programs and address learning differences in an application when necessary.
Arete will save you time and money by eliminating many unnecessary steps in finding the right school with the appropriate programs for students with learning differences such as:
Dyslexia (and other reading based differences)

Dyscalculia (and other math based differences)
Dysgraphia (and other writing based differences)
ADD & ADHD
Autism Spectrum Disorders
Executive Functioning Issues
Schedule an Initial Consultation
College Counseling