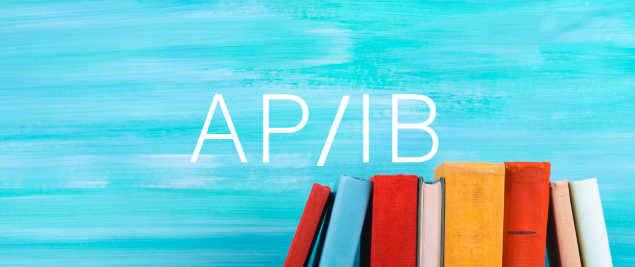 The AP (Advanced Placement) courses and the IB (International Baccalaureate) Diploma Program are intensive courses that colleges like to see on high school transcripts.
The IB classes follow a curriculum, including papers and exams (internal assessments), mandated by the International Baccalaureate Program. A student must complete individual IB classes and score higher than a 4 (out of 7) on exams to earn a certificate of completion. The AP program, mandated by the College Board, uses exams graded on a scale from 1 to 5. They can be taken individually for recognition of exceptional performance. Colleges recognize both exams when considering an applicant and their potential for college credit.
The best way to prepare for AP and IB exams is developing a substantial foundation of coursework in the subject. Breaking down the material and implementing practice tests will allow students to increase subject knowledge and test scores. Remember, just because your school doesn't teach an AP class does not mean you cannot take the exam! However, because the tests are subject based, the amount of preparation time is dependent on the student's mastery of the content. We recommend more time for students preparing on their own.
AP Exams
AP Capstone
AP Research
AP Seminar
Arts
AP Art History
AP Music Theory
AP 2-D Art and Design
AP 3-D Art and Design
AP Drawing
English
AP English Language and Composition
AP English Literature and Composition
History & Social Science
AP Comparative Government and Politics
AP European History
AP Human Geography
AP Macroeconomics
AP Microeconomics
AP Psychology
AP United States Government and Politics
AP United States History
AP World History: Modern
Math & Computer Science
AP Calculus AB
AP Calculus BC
AP Computer Science A
AP Computer Science Principles
AP Statistics
Sciences
AP Biology
AP Chemistry
AP Environmental Science
AP Physics 1: Algebra-Based
AP Physics 2: Algebra-Based
AP Physics C: Electricity and Magnetism
AP Physics C: Mechanics
World Languages & Cultures
AP Chinese Language and Culture
AP French Language and Culture
AP German Language and Culture
AP Italian Language and Culture
AP Japanese Language and Culture
AP Latin
AP Spanish Language and Culture
AP Spanish Literature and Culture
IB Exams
Studies in Language and Literature
IB Language A: Literature
IB Language A: Language and Literature
IB Literature and Performance
Language Acquisition
IB Classical Languages
IB Language B
IB Language ab initio
Individuals and Societies
IB Business Management
IB Digital Society
IB Economics
IB Geography
IB Global Politics
IB History
IB Information Technology in a Global Society
IB Philosophy
IB Psychology
IB Social and Cultural Anthropology
IB World Religions
Sciences
IB Biology
IB Chemistry
IB Computer Science
IB Design Technology
IB Environmental Systems and Societies
IB Physics
IB Sports, Exercise and Health Science
Mathematics
IB Mathematics: Analysis and Approaches
IB Mathematics: Applications and Interpretation
The Arts
IB Dance
IB Film
IB Music
IB Theatre
IB Visual Arts
Other Core Requirements for the Diploma Programme
Creativity, Activity, Service
Extended Essay
Theory of Knowledge
Schedule an Initial Consultation
AP/IB